Take your gifting to the next level
The power of digital color marketing
Offer your customers a unique way to purchase and send gifts to loved ones or business acquaintances
Use Minisoft eFORMz, DuplexPackSlip® labels, and the power of digital color marketing to offer personalized gifting messages including the option to add a picture of the gift giver on the back of a DuplexPackSlip® shipping label. All output in high quality, high resolution color!
Deliver a more personalized customer experience
Take gift messaging to the next level by offering your customers an opportunity to upload a "selfie" to your websites to be used with their gift message.
eFORMz can capture gift messages entered through an ecommerce website and automatically match them with the package being shipped. Give your customers a special opportunity to really personalize their gift card by taking full advantage of the back side of the DuplexPackSlip® label normally reserved for a packing list.
What is a DuplexPackSlip® label?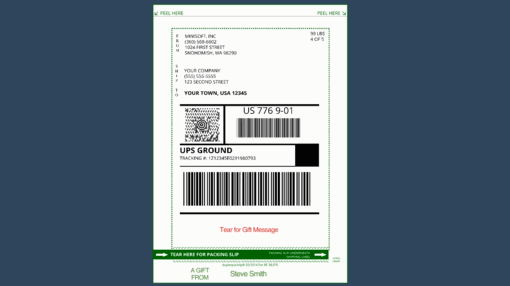 DuplexPackSlip® labels are an innovative all-in-one duplex solution, which automatically combine a shipping label with a packing slip on the front and back side of the same label, streamlining any warehouse shipping operation. Use eFORMz to bring the DuplexPackSlip® label together with your current warehouse management, order management and shipping solutions. eFORMz can capture all of this information and bring the DuplexPackSlip® label to life with powerful formatting and design options. eFORMz handles the printing of any pictures, text and logo graphics in beautiful colors, ensuring maximum impact for any gift-messaging occasion.