Wayfair Integration
Did you know eFORMz can interface directly with Wayfair? That's right, Minisoft's eFORMz uses the Wayfair API to retrieve ready-made shipping labels. I know, most people think dropshipping is just about packing lists. Yet, in many cases, third-party retailers have specific requirements for shipping labels (we're looking at you, Amazon FBA labels 😉). With this in mind, eFORMz worked directly with Wayfair to achieve this tight-knit integration. Here's the breakdown.
First, a happy customer finds their dream item on Wayfair. They click buy and that's when the magic happens. Wayfair sends an order acknowledgement to the dropship retailer. Their EDI system drops a text file into a folder that eFORMz monitors. eFORMz scrapes the purchase order number and then queries Wayfair with our token authentication. Wayfair returns an access token. We query Wayfair with this access token and the purchase order number. Wayfair then returns the shipping label as a PDF.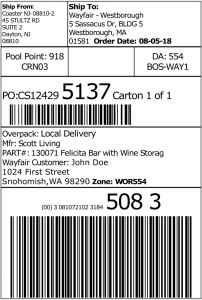 eFORMz takes the shipping label and merges it with a Wayfair-approved packing list from our dropship template library, in the appropriate format of course (4×6 or 8.5×11). This greatly streamlines our customer's existing dropship business process because they no longer have to deal with Wayfair directly every time an order is generated. They simply configure their Wayfair Supplier setup, the API links to whatever is generated and eFORMz does the merging and printing. The process is completely automated.
Just as a friendly reminder, Minisoft has developed over 300 (and counting 
) different dropship packing lists that are compliant with each retailer's unique requirements. Using eFORMz, every drop ship packing list can be integrated with BlueCherry, Dynamics 365 (AX & NAV), Epicor, EnVista Unified Commerce, HighJump, Infor (SX.e & AX), JDA, Manhattan Associates, NetSuite, Oracle JD Edwards, SAP, SOLOCHAIN (Generix Group), TrueCommerce Nexternal and other warehouse management (WMS), enterprise resource planning (ERP) and order management (OMS) solutions.
Looking for a specific dropship packing list? Curious about our dropship template library? For more information, please call 800-682-0200 or sales@alt2.minisoft.com