Manhattan WMOS Integration
Manhattan Associates' Warehouse Management for Open Systems (WMOS) is a warehouse management solution for retailers which can output in a variety of formats, including PostScript (.PS) and Extensible Markup (.XML) via the Manhattan Integration Framework (MIF).
Best Practices
eFORMz works with any version of WMOS, but the integration methods can vary widely. Even within the same year there are platform and non-platform versions that require different approaches for integration. In pre-2010 versions or non-Platform versions, integration is done by reading the "RPT_REQST_Q " table for the print request and then reading other tables for additional required data. When integrating with WMOS version 2010 and newer, eFORMz intercepts the system print output by looking to the user as a normal printer. When the output is intercepted, it is processed by the eFORMz engine to produce the desired output as designed, and then it is outputted to its final destination.
More specifically, for WMOS version 2010 and newer, the eFORMz Java Print Service Provider jar file (eFORMzPrinter.jar) is installed in WMOS Classpath. This doesn't make any changes to WMOS code. Be sure to add the following in a Java command to whatever is calling the print service (e.g. WebSphere):
–DefzPrintServicesDefaultDirectory=<config directory>
The <config directory> refers to a directory created to contain the PrintServices.xml file. It is also the directory that will contain the folders for the intercepted output from WMOS. Typically we use /minisoft or /opt/minisoft.
PrintServices.xml is a part of the eFORMz installation and it holds configuration of eFORMz printers. The Director Toolkit (Configuration) is a Minisoft App to configure eFORMz printers. The eFORMz Java Print Service Provider translates Java drawing operations to Minisoft eFORMz Document (.efd) formatted output. The flow of this process is detailed in the diagram below.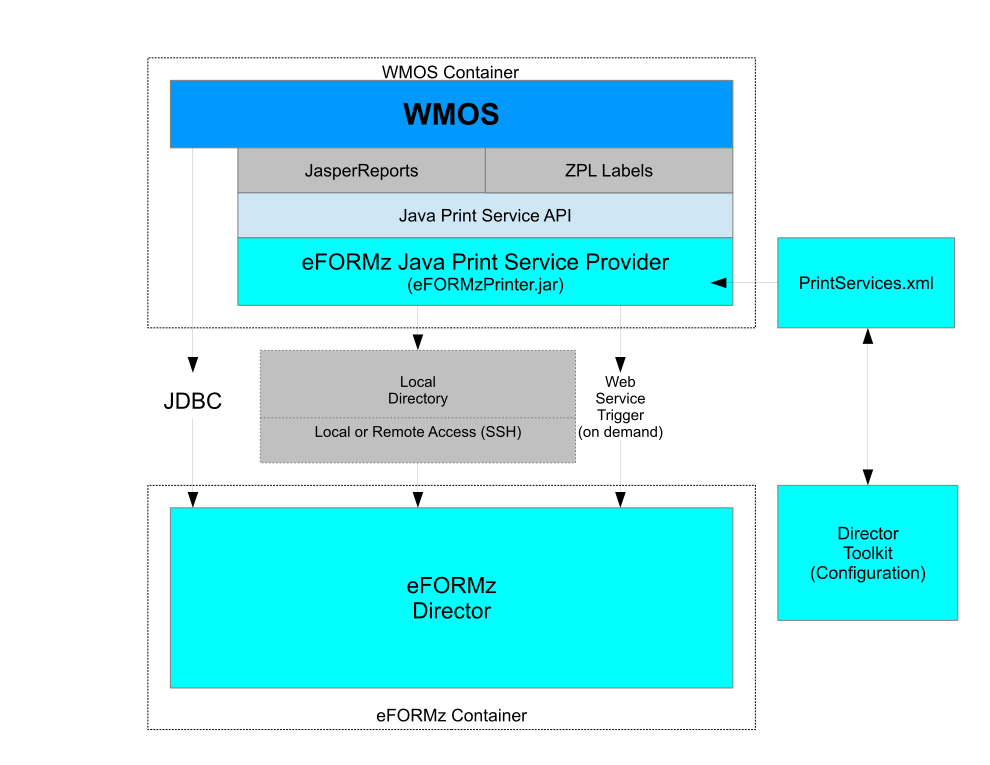 To manually install the .jar file, please perform the following:
1. Copy the new jar to $WMS_INSTALLATION_HOME/distribution/scope.ear/lib
2. Extract$WMS_INSTALLATION_HOME/distribution/scope.ear/scope.war/META-INF/MANIFEST.MF
3. Edit MANIFEST.MF and append new lib name (better to do this from a dev environment and move the scope.ear to production)

4. Paste the updated MANIFEST.MF in scope.ear/scope.war/META-INF/MANIFEST.MF
5. Re-deploy WMS
6. Start WMS application