eFORMz CloudPrint Service
Easily distribute print or digital output via the cloud with eFORMz CloudPrint.
eFORMz CloudPrint goes beyond printing through an operating system spooler or direct spooler. CloudPrint extends the basic capabilities of output delivery from LAN and VPN-connected devices to a true cloud model for printing. Bypass network access barriers and time-consuming management of physical endpoints. CloudPrint makes connection management easy.
Data from virtually any WMS, ERP or OMS can be captured and consumed by eFORMz. This data is sent to singular or multiple remote locations without the hassle of setting up VPN, acquiring network credentials or managing multiple connections.
eFORMz CloudPrint receives the data through a variety of integration methods, including web services, virtual printer, database access read/write, monitor file folders, mqueues or data queues. This data is sent to a document archive, a thermal or laser printer, or produces digital output, such as PDF or HTML. One or all these output processes can be employed by eFORMz.
The eFORMz CloudPrint concept goes beyond solutions such as IPP [Internet Printing Protocol] by allowing both printer protocol and type independence. The intermediate data stored is not for a specific printer model or type. The same data can as easily produce a single sided A4 collate from a laser printer in PCL as a duplex 4 x 8 inch thermal label from a SATO. Formatting is accomplished as requested by the Consumer tool.
The Consumer tool can be configured to run either on demand from a browser or as a background service. When running as a background service, several dozen printers on a LAN can be serviced by a single instance. Where there is still network authentication and authorization needed, this is access to eFORMz CloudPrint not to the customer's internal network. A traditional VPN architecture would place the Consumer 'inside' the Producer network at additional risk than using the trusted intermediary approach of eFORMz CloudPrint.
Minisoft worked closely with Oracle Cloud and Database engineers to enable a reliable and robust solution to handing the intermediate digital form of the documents.
For more information:
Monitoring
The data being managed within an instance of eFORMz CloudPrint is more than just a spool file. It is an object that is handled according to the importance of its value.
If there is a delivery delay issue, a configurable set of actions can take place. This is especially true when working with third-party vendors who need to move products in a timely manner. If a data object exceeds a defined latency, a notification of non-compliance can be sent.
Outside the individual data objects being handled, each instance of eFORMz CloudPrint is covered by Minisoft Predictive Support. For example, if a cloud hosting data center becomes unavailable, a replicated server in another data center will be launched to take its place using the Oracle Database Cloud Service (DBCS).
Architectural Evolution
[Producer] -> [eFORMz Director] -> [Operating System Spooler] -> [Destination aka Printer]

CloudPrint can take more control of the actual printing:
[Producer] -> [eFORMz Director] -> [Operating System Spooler] and/or [Direct to Printer Port] -> [Destination aka Printer]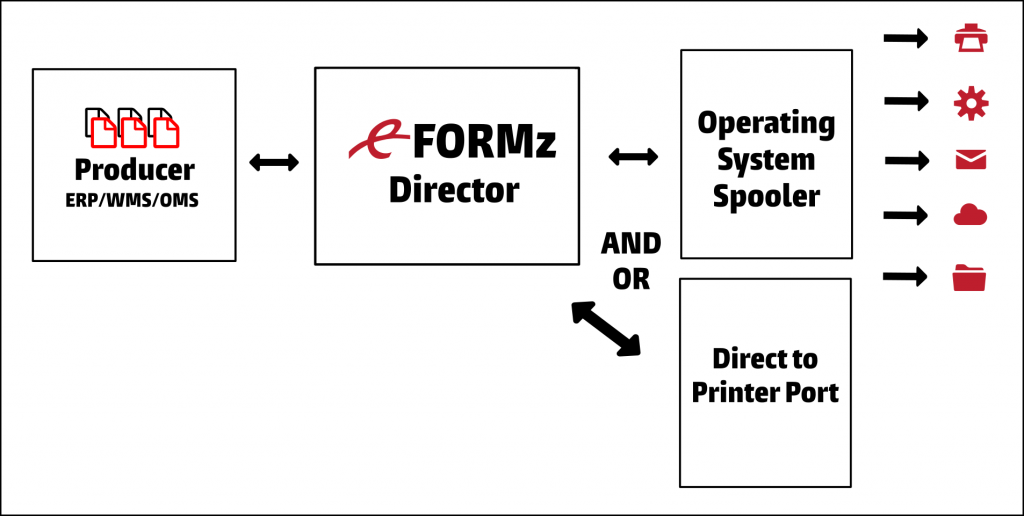 [Producer] -> [eFORMz Director] -> [eFORMz CloudPrint] -> [eFORMz CloudPrint Agent] and/or [eFORMz BrowserPrint] -> [Destination aka Printer]

Information is pulled from eFORMz CloudPrint by authenticated and authorized users and systems. The Consumer applications are "eFORMz CloudPrint Agent" (eCPA) and "eFORMz BrowserPrint" (eBP). Where the eCPA requires the use of eCP, eBP may be used through any web service.