eFORMz Constants
Constants are static data that do not change, such as logos, text, and lines. Constants cannot have conditions on them; they are always on a form.
Do not place constant elements within or on top of document template components, including tables, boxes, or paragraphs. Both constants and rules can be clicked and dragged to any location in a form independent of the flow of the document.
Constants cannot be layered. For example, you cannot create a constant box and put variable text within the constant box. The results are unpredictable. If you require text within a box, consider these options:
A table cell with a border on all four sides.
A document template box with a border on all four sides.
Adding a Constant: Image
1. Right Click –> Add Constant–> Image

2. Image Element options. The image can be uploaded or selected from images added to the project. In this case, an image has already been added to the project. The image can also be positioned from this menu.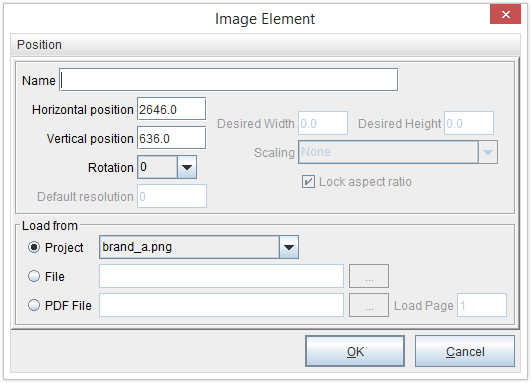 3 . brand_a.png  is added to the form and can be dragged into the desired position.