SmartLabel Design and Barcode
SmartLabel is an intelligent pre-paid, pre-addressed return-shipping label integrated onto the order summary and shipped with the consumer's merchandise. SmartLabel's dynamic bar code links the package to the customer's original order and provides returns information links vital to both the customer and the retailer.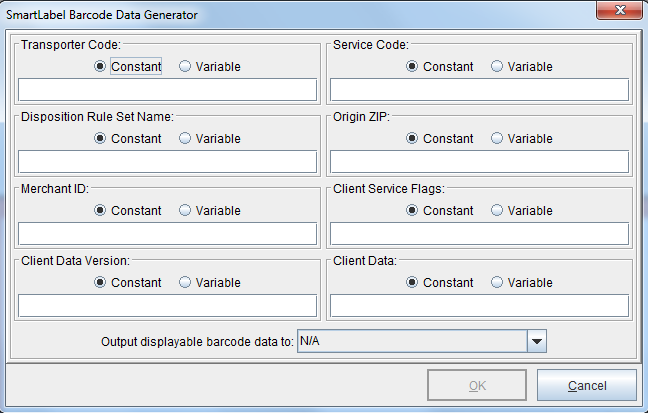 Transporter Code: This two-digit code indicates the front-end carrier and the service used to induct the package into the Newgistics return network. It occupies positions 2 and 3 within the SmartLabel barcode.
Codes
21 – USPS First Class
25 – USPS Return Delivery Unit
Service Code: This two-digit code the Newgistics service requested and the request mechanism. It occupies positions 4 and 5 of the SmartLabel barcode.
Codes 
00 – SmartLabel (in box generated by client)
01 – Direct label (pre-printed)
10 – CSR SmartLabel (generated by Shipment Manager)
20 – Consumer SmartLabel (generated by Shipment Manager)
Origin ZIP: This is the 5-digit postal ZIP of the point of origin for the return.
Disposition Rule Set Name: This is the last two characters of the merchant specific Disposition Rule Set name used to determine the sort (disposition) of the package. The set name occupies positions 11-12.
Newgistics Merchant ID: Four character identifier assigned by Newgistics. This identifier may be alphanumeric and occupies position 13-16.
Client Service Flags: These flags indicate order (returns vs exchange) or charge status. They occupy either position 17.
Code
0 – Standard
1 – Complimentary
2 – Exchange
Client Data Version: This is a version indicator for client-specified data. During your initial SmartLabel implementation, this value is set to 1. In subsequent revisions to the SmartLabel barcode, the field is incremented. This occupies position 18.
Client Data: This is serialized client data structure. This is composed of the mandatory Return Identifier fields and any other fields identified by your version. The length of this field will be fixed for any particular client version of the barcode. It occupies either position 19-47.