Setting Up a Different Folder for eFORMz PCL Files in a UNIX Environment
The Director Toolkit's post-processing can be used to set up a different folder for the final destination of eFORMz PCL files in a UNIX environment. IFS files should be handled with shell scripts. The one line contents of this shell script handle the renaming of any number of files in the /minisoft/input/from directory.
Listed below, there is the Director External Command, the script file contents, a screenshot of the Director Toolkit setting, and a short log fragment of this process in action.
QSH CMD('/minisoft/rename_pcl.sh')
$ cat /minisoft/rename_pcl.sh
cd /minisoft/input/from; for file in *.tmp; do base=`basename "$file" tmp`; mv "$file" "$base"pcl; done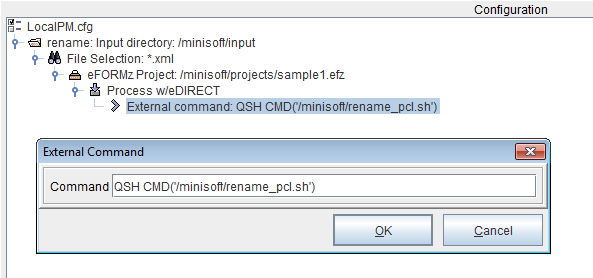 0000000094 (11/12/15 9:37:53 PM) Variables:
0000000094 (11/12/15 9:37:53 PM) directory = /minisoft/input
0000000094 (11/12/15 9:37:53 PM) datafileext = xml
0000000094 (11/12/15 9:37:53 PM) datafilename = 1
0000000094 (11/12/15 9:37:53 PM) project = sample1
0000000094 (11/12/15 9:37:53 PM) 1 pages output (PCL format) to /minisoft/input/from/sample_1447364273325.tmp
0000000094 (11/12/15 9:37:53 PM) Processing complete
0000000094 (11/12/15 9:37:53 PM) Executing external command: QSH CMD('/minisoft/rename_pcl.sh')
0000000094 (11/12/15 9:37:53 PM) ****** Sleeping ******