On Demand Print Utility
This eFORMz utility allows you to send a file directly to a printer with no modifications made along the way. The printer must be defined in the Director Toolkit Printers configuration tab (and thus appears in the Printers.xml file in the eFORMz install directory). When eFORMz is installed, this utility is added to the "eFORMz 11" group on the Windows Start menu, and is called "OnDemand Print". Or you can navigate to the eFORMz install directory (C:\Minisoft\eFORMz_6) and find the OnDemand_Print application:
When you run this utility by one of the methods above, its window will be displayed, allowing you to select a file and a printer for the print operation. You can also select the number of copies, as well as choose whether to delete the file after printing it. The window should look like this: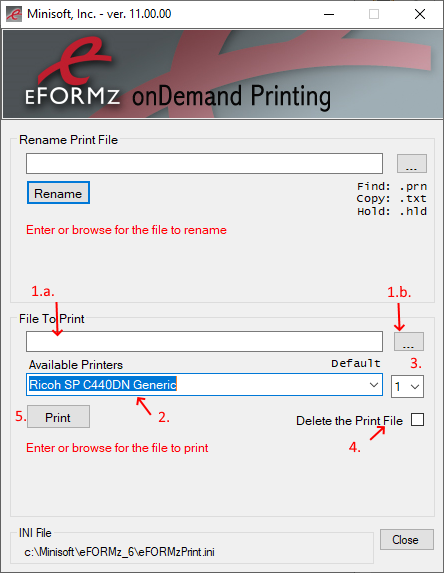 Follow these steps to print your file:
Select the file to print by typing its full path into the text field (1.a.), or by clicking the File Selection button to the right of that text field (1.b.).
Select the printer to which you would like to send the bytes in the file (2.).
Optionally, change the number of copies in the dropdown to the right of the printer name (3.).
Optionally, check the box to delete the file after printing it (4.)
Click the Print button to send the file to the printer.
Define a Printer
If your desired printer is not in the dropdown list, you will need to define it using the Director Toolkit, the Printers tab. This is described in the following support article: Getting Started Guide – eFORMz. Look in the "Add and configure a printer" section.