eFORMz Service Authentication and Administration
The eFORMz Service Manager runs the eFORMz Director processes and the eFORMz web server, if eFORMz is configured to receive web service requests. This service must be installed after eFORMz is installed by running Service Manager (64-bit) – Create under the eFORMz folder from the Start menu. It runs the following command:
C:\Minisoft\eFORMz_6\jsl_64.exe -install jsl_ServiceManager_64.ini
Installing the service means that Director processes start up automatically and run in the background, like other Windows services such as the Print Spooler. Alternatively, you can run the Director from the Director Toolkit.
As with most Windows services, the eFORMz service by default authenticates to Windows as Local System. If eFORMz uses network resources, you can change the service's properties to authenticate using Network Service. Some security policies might require eFORMz to run under a specific ID. You can change the ID under which the eFORMz service runs by completing the following steps:
Open the Services window, find the eFORMz Service Manager 64 service, and open the Properties window.
Click the Log On tab:
Click This account and enter the user ID and password for the account you want to run eFORMz under.
Click OK.
If the eFORMz service is running when you start the Director Toolkit, the Director tab shows The Director is running under the Service Manager, otherwise it shows The Director is running or The Director is not running. If it shows The Director is running, and you close the Director Toolkit, the Director stops.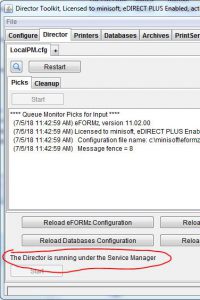 Warning: The follow situations will produce unpredictable results:
The Director was running in the Director Toolkit when you started the eFORMz service. To prevent this problem, always close the Director Toolkit before starting the eFORMz service.
The system that eFORMz runs on has multiple instances of eFORMz running under one or more IDs.
Multiple instances of eFORMz on different systems are accessing the same data files.