Configuring the eFORMz Port Monitor (Virtual Printer)
Capture incoming print files (or spoolfiles) from an alternative host system to a directory on your Windows operating system using the eFORMz Port Monitor, which acts as a virtual printer.
1. Create a new eFORMz Port by executing one of the two batch files from:
C:\Minisoft\eFORMz_6\portmonitor
This directory holds both 32bit (AddPortMonitor.bat) and 64bit
(AddPortMonitor64.bat) versions of the install:

In addition to running the batch file from Windows Explorer or from a command prompt in order to install or uninstall the port monitor, you can run it directly from the shortcut on the Start menu that we install.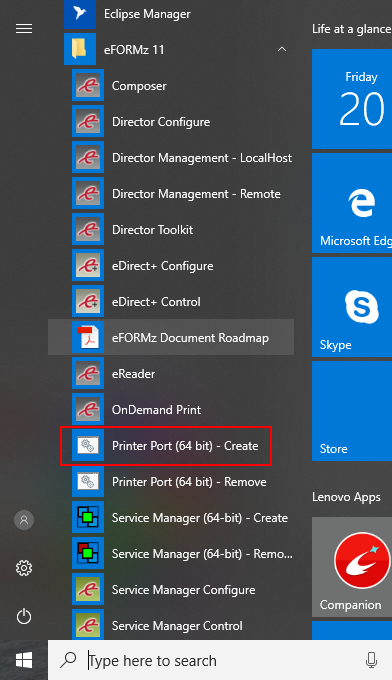 NOTE:  In some cases you may need to perform the above steps via a command prompt instead.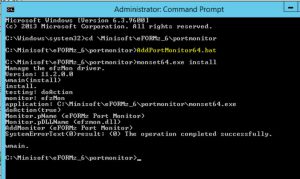 2. Add a new printer via your Windows Printer Wizard (START Menu > Control Panel > Printers > Add Printer).
3. Select LOCAL PRINTER and then click Next.
4. Choose Create New Printer Port. From the drop down list select eFORMz Port Monitor. Click Next.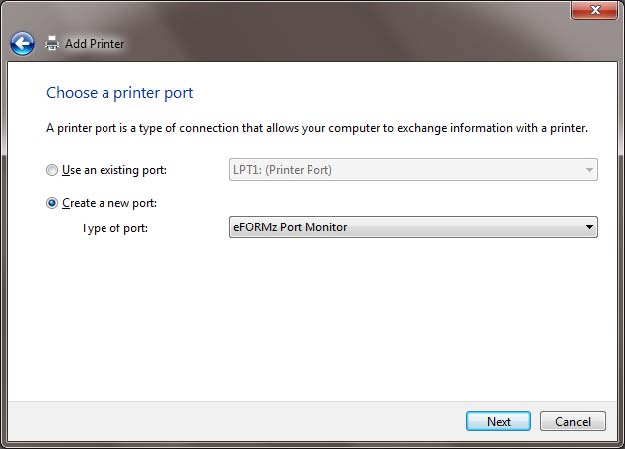 5. From the eFORMz Port Monitor dialog box enter the port name and number (id).
We recommend using the format EFZn where n is a value number.

6. Using the browse button for the Capture Directory field select the folder where you would like your captured files to reside: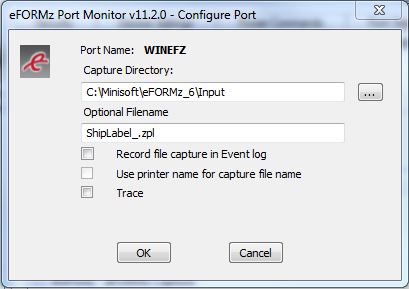 Optional Filename lets you customize the default timestamped file name. Text that you type before the extension is included before the timestamp. The extension that you include is added to the file name. However, the naming is independent of the file type. Results are unpredictable if you mismatch file types and file extensions, such as adding .zpl to an XML file. All files received by this port monitor contain the same naming convention.
ShipLabel_201307112240263320.zpl
ShipLabel_201307112240291480.zpl
ShipLabel_201307112240303780.zpl
In the Optional Filename field, include only the prefix of the name and the extension, as in test.prn. Do not include an asterisk or other pattern-matching characters. This will cause the printer to generate an error.
For example, test.prn will become test_201307112240263320.prn.
Record file capture in Event log can remain unchecked.
Check Use printer name for capture file name only if you wish the data file name to replicate the name of the printer, otherwise, leave unchecked.
Check Trace to implement tracing on the port monitor, leave unchecked. Click OK when complete.
NOTE: The resulting trace file can be found in the Windows System32 folder noted as efzmon.tra.
If using UPS WORLDSHIP DO NOT SELECT GENERIC/TEXT ONLY and continue reading on the following article. The driver will be Zebra ZP 450-200dpi UPS WORLD SHIP PORT MONITOR
If using FedEx ShipManager DO NOT SELECT GENERIC/TEXT ONLY and instead use a Zebra driver. The driver will be Zebra ZP 450-200dpi.
7. Select Generic as the Manufacturer and Generic/Text Only as the Printer type.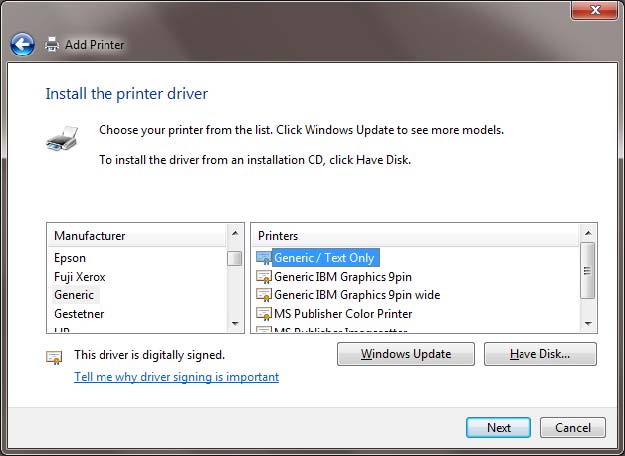 8. Select Keep Existing Driver.
9. Enter a Printer Name. The printer name should match the QUEUE name that is specified on your host system sending the print files (spool files) to your Windows operating system. Once complete your new port will be added: