Configuring Network Printers (Windows)
To avoid print interruptions and to permit print spooling to your network printer printing an eFORMz merge, make the following change:
1. From your Printers and Faxes dialog box select the network printer configured to print your eFORMz merge processes.
2. Select the Advanced tab.
3. From the Advanced tab select Start printing after last page is spooled. Click OK.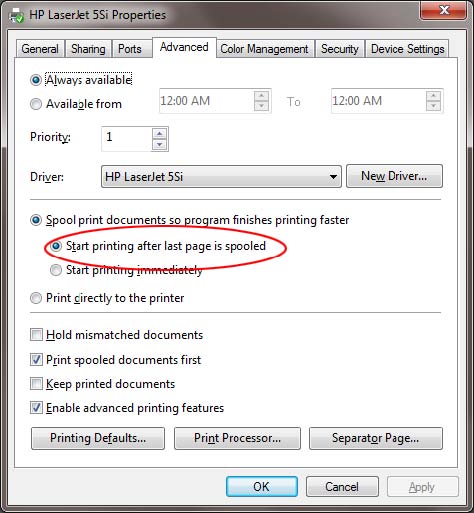 4. Next, select the Ports tab and select Configure Port.
5. The Port Settings dialog box will display. Uncheck SNMP Status Enabled.

NOTE: If the printer is in an offline state (paper jam, user offline, out of paper, etc…) and eFORMz attempts to send print to the queue then Java complains and the file is not transmitted with the reported error in the eFORMz log. This issue started appearing with the release of Java 5. By unchecking the SNMP box, noted above for each and every printer processed by eFORMz , then the problem goes away. Unfortunately this box is always checked when one adds a new printer device.
NOTE: Print Spooler must be restarted.