Ship Smarter
DuplexPackSlip Laser Forms make use of patented DuplexPackSlip® tear strip technology, which means you receive all of the business process benefits of using a DuplexPackSlip thermal label.
Sell More
Use the package you already ship as a vehicle for selling more. With DuplexPackSlip Laser Forms every customer order can generate new sales while reinforcing a retailer's brands and enhancing the customer experience.
Introducing the DuplexPackSlip® Mini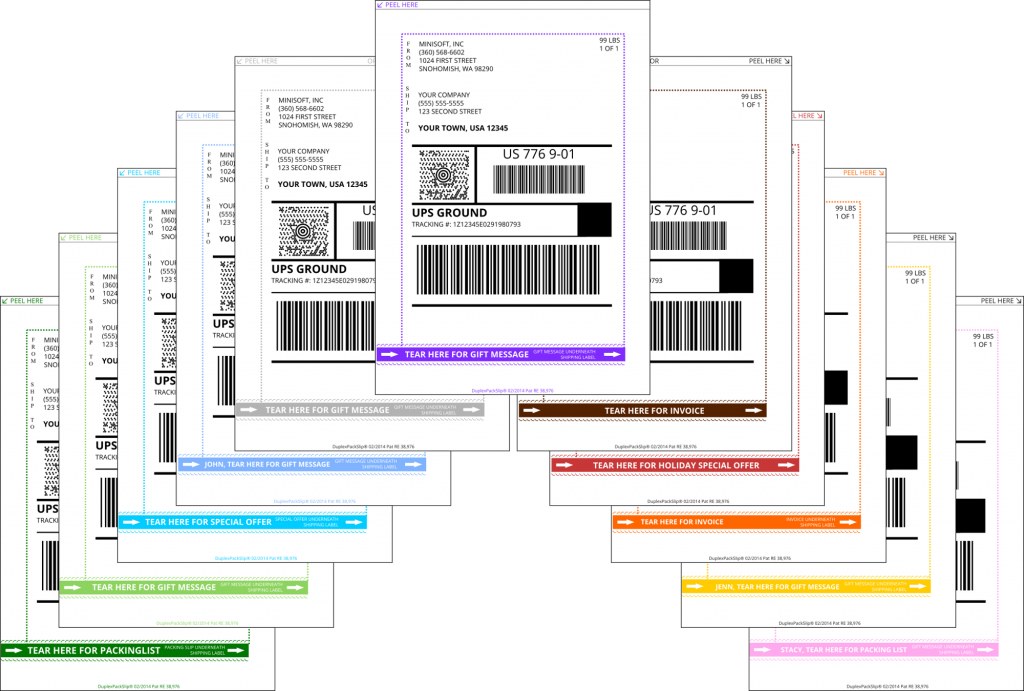 Based off of the A5 paper size, the DuplexPackSlip Mini features a 4.25in x 6in printing space for the shipping label and packing slip. Accessible by an easy-to-tear perforation, the packing list is printed on the back of the label. As with all DuplexPackSlip Laser Forms, the colors and margins are completely customizable. Any logos or colors can be pre-printed or dynamically printed depending on your needs or preferences.
The DuplexPackSlip Standard was designed specifically to empower companies to sell more by integrating a second DuplexPackSlip into the form. The second DuplexPackSlip label gives clients the ability to utilize more white space for up-sell and cross sell opportunities. Want to drive more business to your brick-and-mortar stores? With eFORMz and the DuplexPackShip Standard, it's simple to include in-store only offers or discounts.
Need a return label?
A return label can be printed on the extra space above the second DuplexPackSlip and can be included in the package with the shipped item. It could also be pre-applied under the shipping label. If your customer needs to use your return service, they would just need to remove the shipping label, apply it and then send it back!
The DuplexPackSlip Collate uses the same 8.5in x 11in paper size as the DuplexPackSlip Standard. The main difference between the two is the presence of multi-use panels.
The sample configuration shown has the DuplexPackslip with a combined shipping label and packing list. The two multi-use panels on the right are utilized for targeted marketing and a pre-printed return label. On the back, there is a 6in x 8.5in printable space, commonly used for return instructions. The multi-use side of the laser form is torn off with the easy-to-tear perforations, and placed into the package.
OF CONSUMERS want to see a return label right in the box
SAY FREE RETURNS SHIPPING is key to a positive returns experience